You only get one life, so you have to make the most of it. For some of us, our dream is to travel the world. For others, it's to have a large family, or carve out a successful career – or a combination of all three!
Whatever your goal is in life, when you're younger, it's easy to feel confident that you'll achieve everything you've set out to do.
We recently conducted a survey to 1000 respondents over the age of 55. Almost half of the people surveyed (44%), don't feel they'll be able to achieve everything they want to in their lifetime, their biggest reason being lack of money.
Top bucket list items for over 55s
Northern Lights is the biggest bucket list dream
Achieving our dreams is important to us Brits, with 43% of those aged over 55 saying they would regret it if they didn't. The number one experience on the bucket list for over 55s is to see the Northern Lights, followed by travelling on the Orient Express, and visiting one of the seven wonders of the world.
Aside from experiences, over 55s also want to achieve a lot in their lives. The top ambition, shared by 65% of people in the survey, is to stay fit and healthy.
Goals number two and three on the list are financial - to become debt free (34%) and to save a substantial amount of money to pass on to children or grandchildren (34%). Learning a second language and starting a business are also major milestones over 55s hoped to achieve.
Life doesn't always go to plan however, and over 90% of over 55s haven't completed their life goals yet. After lack of money, work and family commitments were the other main reasons respondents said held them back from achieving their dreams.
However, there is hope! If you are a homeowner aged over 55, perhaps the first step to kickstarting your bucket list, or even providing for your family is finding out how much money you can release from your house. Who knows where this will lead...
Spending time with family and friends is the key to happiness

Over half (52%) of over 55s in the UK believe the secret to happiness is spending time with loved ones, with good health a close second (at 49%), followed by financial freedom (at 41%). Finding a work-life balance, and living in the moment made up the top five.
With COVID-19 and the various lockdowns putting everything into perspective, more and more people are deciding to take the plunge and actively try to achieve their dreams. In fact, 64% of over 55s want to travel more for recreational purposes post-lockdown compared to before the pandemic, and nearly four out of five plan to see their family more often.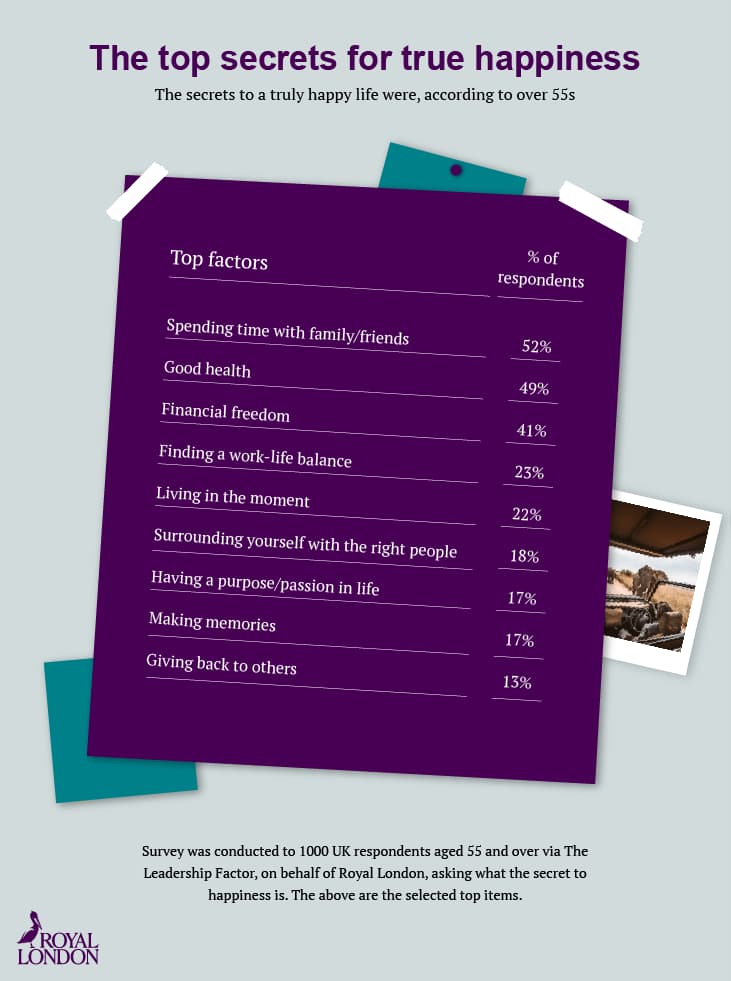 The top secrets to true happiness, according to over 55s
Top factors holding people back from their dreams
Advice for the younger generation
With two thirds (68%) of over 55s saying they wish they'd spent more time chasing their dreams when they were younger, we wanted to find out the best piece of advice they'd give to younger generations. Here are just some of the things they had to say:
GO FOR IT!
Make the most of everyday
There is more to life than making money
By all means, try to achieve your goals, but don't forget to live and enjoy the present.
Of course, 'go for it' is easier said than done, but with lockdown putting everything into perspective, now's the time to really think about what you want from life. Whether you want to spend more time with loved ones, be financially secure, provide for your family, go visit that far-flung destination you've always dreamt of visiting, or start a new hobby, now's the time to start taking steps towards making that dream become a reality.
* Survey was conducted to 1000 UK respondents aged 55 and over via The Leadership Factor on behalf of Royal London.
More on later life planning for over 55s