The power of your pension to help fight climate change
We think the action we take on climate change over the next decade will radically shape the health of the planet for generations. So now is not the time to be passive. We have to act now to help you retire into a future worth living in.
So, we've taken steps to reduce the carbon intensity of our investments whilst still offering you the same strong governance and risk management you currently enjoy as a Royal London customer.
How we're doing good with your money
If you're invested in our Governed Range, where most of our pension customers are invested, you can feel assured your investments are helping tackle climate change. We've made these changes on your behalf, with no extra cost to you.
Our Consumer Finance Specialist Sarah Pennells explains how your pension is helping to fight climate change:
We think the next decade will shape the world for generations to come, and we want you to be able to retire in a future worth living in. But the effects of climate change put that in jeopardy.
That's why we're making some changes to the funds you're likely to be invested in if you have a workplace pension with us. We think these changes are good news, both for you and for the planet. And I'd like to explain why.
We believe that you can't have a good standard of living in retirement if the effects of climate change mean that, for example, your home is at risk of flooding every few years or summers are so hot that you can't go outside. We've already made a commitment to halve the carbon emissions of our investments by 2030 and to achieve Net Zero by 2050. Net Zero means that the amount of greenhouse gases produced by a company or -in our case - our investments - is balanced by the amount that's removed from the atmosphere.
As part of our Net Zero commitment, we're making changes to our workplace pension default fund. If you have a workplace pension through us, it's where your pension savings are likely to be invested and is part of our Governed Range. All pension funds invest in a range of different assets, but typically this will include shares in different companies, called equities, loans to companies, called bonds, and property. The shares could be in anything from technology providers to pharmaceuticals companies.
We've now started investing less in those companies that emit the most carbon and more in companies that emit less. As a result, the carbon intensity on the largest portion of our Governed Range, which is equities, is reducing more than 10%. And we're doing this at no extra cost to you, and without significantly changing the risk to you. Our customers have told us they care about where we invest their money. And so do we.
If you want to find out more, go to The power of your pension
We're committed to achieving Net Zero across all our investments by 2050
When you have a pension with us it means you're invested in some of the world's largest companies which have a crucial role to play in the fight against the climate crisis. We're now investing less in companies that have the highest carbon emissions and investing more in those that have the lowest carbon emissions.
We've committed to achieving a minimum 50% reduction in CO2 emissions by 2030 and net zero by 2050 across our investments. We believe these changes will result in a significant reduction in the carbon intensity of our investments without significantly impacting risk or returns.
Our climate targets are based on the expectation that governments and policy-makers will deliver on commitments to achieve the goal of the Paris Agreement, and that the actions we take do not contravene Royal London's fiduciary duties.
We're engaging for positive change
We work actively with the companies that we invest in to influence their plans to reduce their carbon emissions and transition to a sustainable world in a way that considers the impact on society. And from 2025 we'll begin divesting from companies who are unwilling and unable to transition.
Learn about a just transition for Scottish and Southern Energy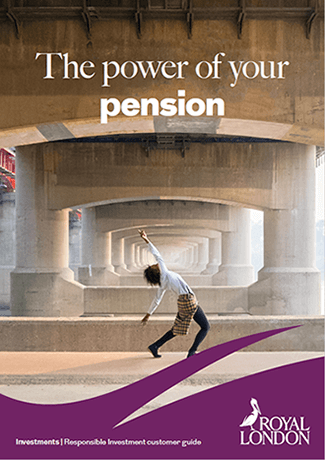 Investing your money responsibly
We're committed to acting and investing responsibly. By being a force for good and putting environmental, social and governance (ESG) issues at the heart of our investment decisions we aim to improve the impact of the money you invest with us on the wider world.
We also believe that by taking into account the environmental and social impacts companies are having, as well as how they're run, can improve returns for you by protecting your investments from shocks related to poor decision-making.
We're taking actions to help improve the future and act on your behalf to influence the companies your pension is invested in to ensure they're behaving in the right way - because what these companies do with your money can make a big difference to the future of the world.
To find out more download our Power of your pension guide (PDF 596 KB)