Register to access your pension plan online
Access your pension plan details with our secure online service. It's really simple to use and you'll be up and running in no time.
This online service is only available if you've taken out a plan with Royal London since 2004 or previously Scottish Life.
Already registered? Visit our log in page to get started.
Getting started
Registering for our online service can be done in a few easy steps.

Have your plan number to hand.

Complete your personal details on our online form.

Read and agree to the online terms and conditions.


Verify you email and mobile number.
Keeping an eye on things
Once you're set up online, you'll find a range of information at your fingertips.
You can keep tabs on how your plan is doing. And depending on the type of plan you have, you can change your investments and get an idea of your potential income when you retire.
Select your plan type from the drop down menu below to find out what you can do online. Not sure what type of plan you have? No problem, visit our Find a policy page for help on how to identify the type of plan you have.
Type of plan
Type of plan

Select…
Pension Portfolio and Individual Personal Pension plans
Talisman98 Personal Pension
Talisman Pension Products | SSA86 – personal pension | GPP86 – group personal pension | S226 – personal pension
Profit Builder House Purchase - endowment plan
Contracts | Budget plan - endowment plan
Contracts | Talisman GPS - group personal pension
Crest - company pension scheme | Talisman buyout bond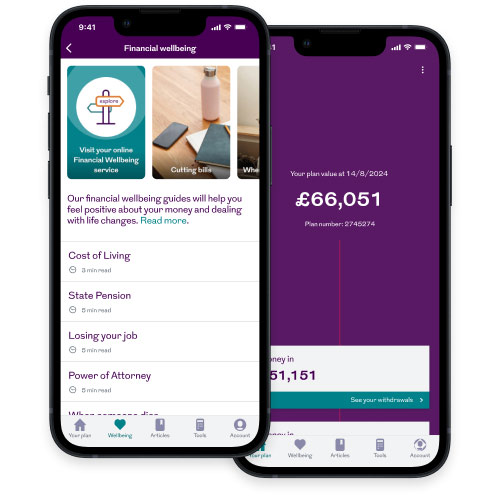 Your future in your hands
Once you've registered for online service, you can download our mobile app to view your pension plan whenever you like.
Our mobile app's only available for certain types of plans. Take a look at our mobile app page to find out more.