We surveyed over 1,600 of you to find out how you feel about your money. Are you positive and confident about your financial goals and the future?
Seeing similarities or differences in how you feel about financial matters compared to others, could provide a helpful sense of perspective. So you can understand what's influencing your decisions and maybe help answer some of those questions you have about your financial wellbeing.
Do I have the right financial goals?
We're seeing the main financial goal as increasing earnings or income. Perhaps this is a sign of overall positivity and aspirations for the future.
However, financial goals do differ by age. For 18 to 40 year olds they are also looking to buy a home or new home. For those who are over 50 years old financial goals are more geared towards retirement either saving more for it or managing their retirement income. Across all ages and in over 40 year olds, paying off a mortgage appears as a top two goal.
What are your financial goals for the future? (top 6 multiple choice responses)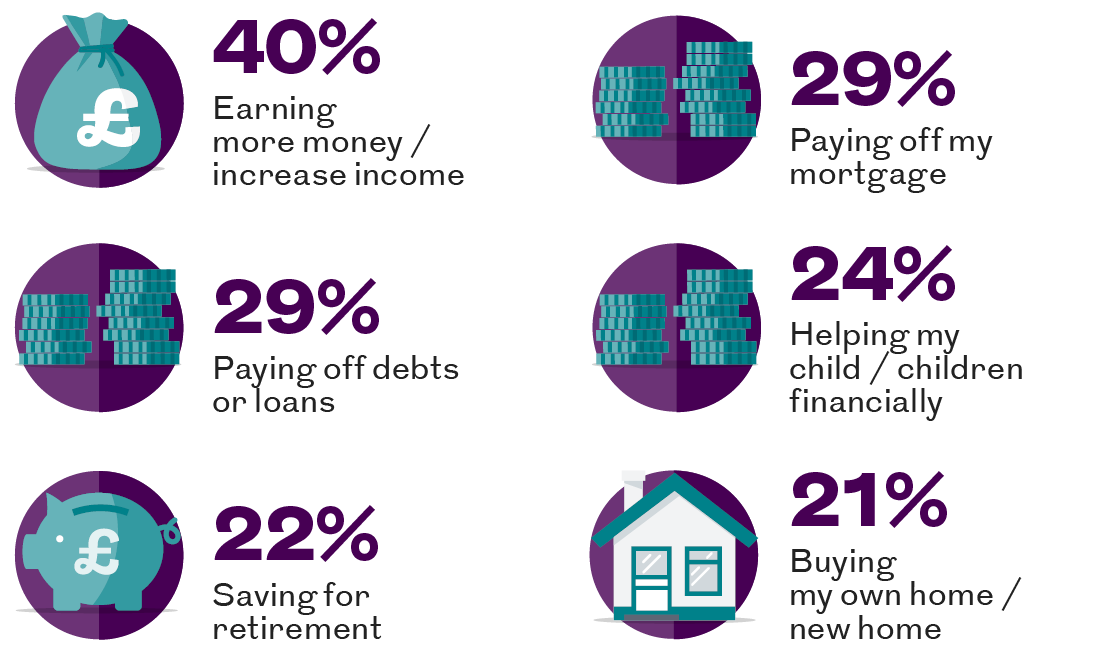 Earning more money/ increase income 40%
Paying off my mortgage 29%
Paying off debts or loans 29%
Helping my child/ children financially 24%
Saving for retirement 22%
Buying my own home/ new home 21%
Am I confident about my money and goals?
It's all about the here and now. Confidence is high when thinking about financial positions over the next 3 months. But start to look further forward and that confidence starts to decrease.
Only about half are confident of achieving goals in the next three years. And just over a quarter are confident about affording the retirement lifestyle they want.
Part of this might be because it's hard to get a proper sense of the future. What's important now might not be later on. Certainly when it comes to the right retirement lifestyle, it's something that needs more planning over time. But if the COVID-19 pandemic has taught us one thing, you never know what might happen. And this is likely to be having a negative impact on confidence over the longer term too.
Have enough to pay for bills and essentials over the next 3 months?
81% confident
2% neutral
7% not confident
Be able to save for financial goals you may have in the next 1-3 years?
49% confident
29% neutral
21% not confident
1% not applicable
Be able to afford the lifestyle you want in retirement?
27% confident
36% neutral
35% not confident
2% not applicable
Could I stay positive if my financial circumstances changed?
For many, being able to stay positive if there was an unexpected negative change to your finances is a bit of an unknown, especially if you've never experienced it before or even know how prepared you are. But if it did happen, there's still about a third who wouldn't be able to stay positive about their financial position.
We've not been living under normal circumstances. And there's still the back drop of ongoing changes and disruption to the running of businesses and the economy. So, it does look like this is making it hard not to worry about a change to financial positions over the next couple of years.
To what extent do you agree or disagree with the following statements about staying positive?
I feel confident I could stay positive if my financial position had an unexpected negative change
36% agree
31% neutral
3% disagree
I worry about my financial position changing over the next two years
34% agree
36% neutral
30% disagree
What keeps me awake at night?
We're seeing more importance placed on physical and mental wellbeing. With the most focus placed on both personal physical health and the physical health of those close to us. It shows the emphasis placed on relationships, caring and staying healthy when it comes to overall wellbeing.
And when it comes to worrying about money, we can see women having a slightly different view to men. Women are more likely (43%) to worry about household finances than men (33%).
What, if any, life shocks or unexpected changes do you find yourself worrying about? (top 6 multiple choice responses)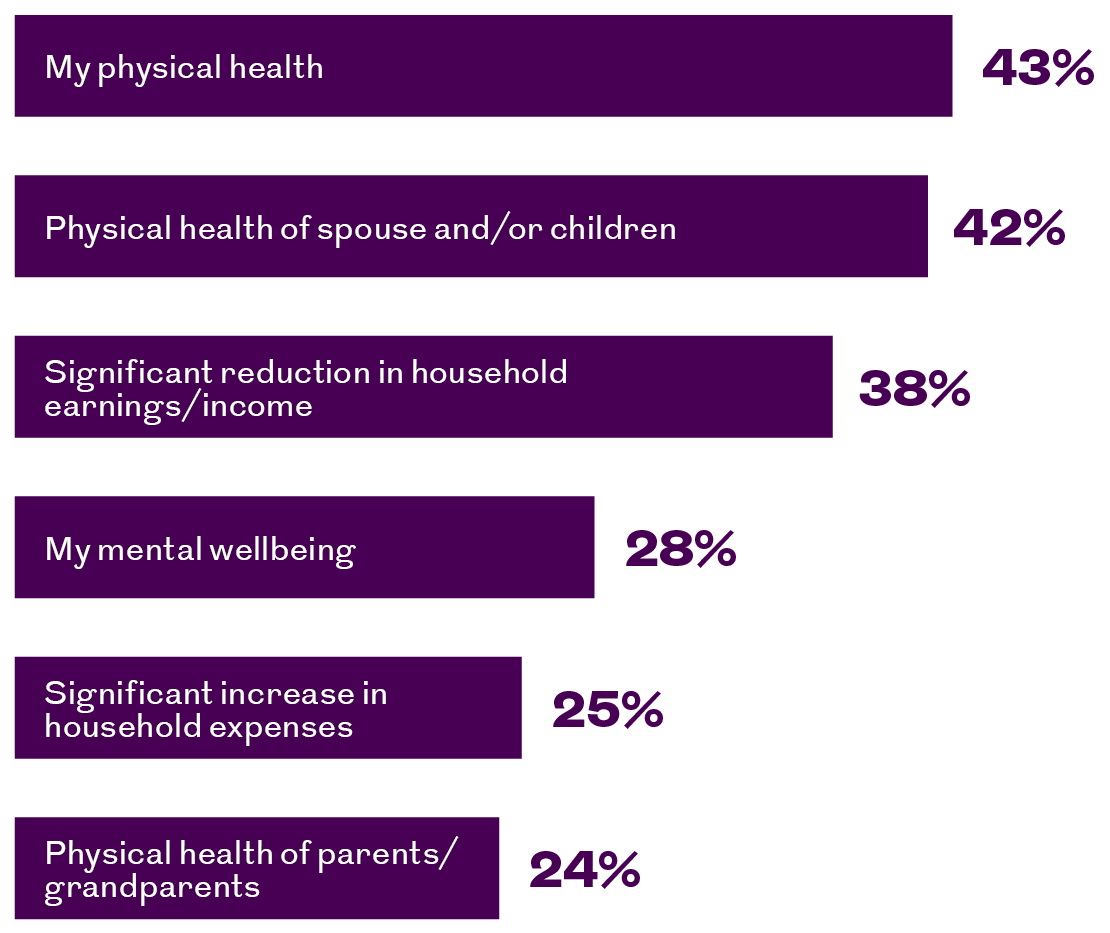 My physical wellbeing 43%
Physical wellbeing of spouse and/ or children 42%
Significant reduction in household earnings/ income 38%
My mental wellbeing 28%
Significant increase in household expenses 25%
Physical wellbeing of parents/ grandparents 24%
While the majority have seen no change to their financial position as a result of the pandemic, some have experienced some sort of negative impact on their finances. It's unclear if that impact is felt temporarily or if it's over short term or long term. Those in the minority feeling a positive impact are maybe feeling the benefits of working from home and not having to commute and saving more.
How has the COVID-19 pandemic impacted your financial situation, compared to before the pandemic?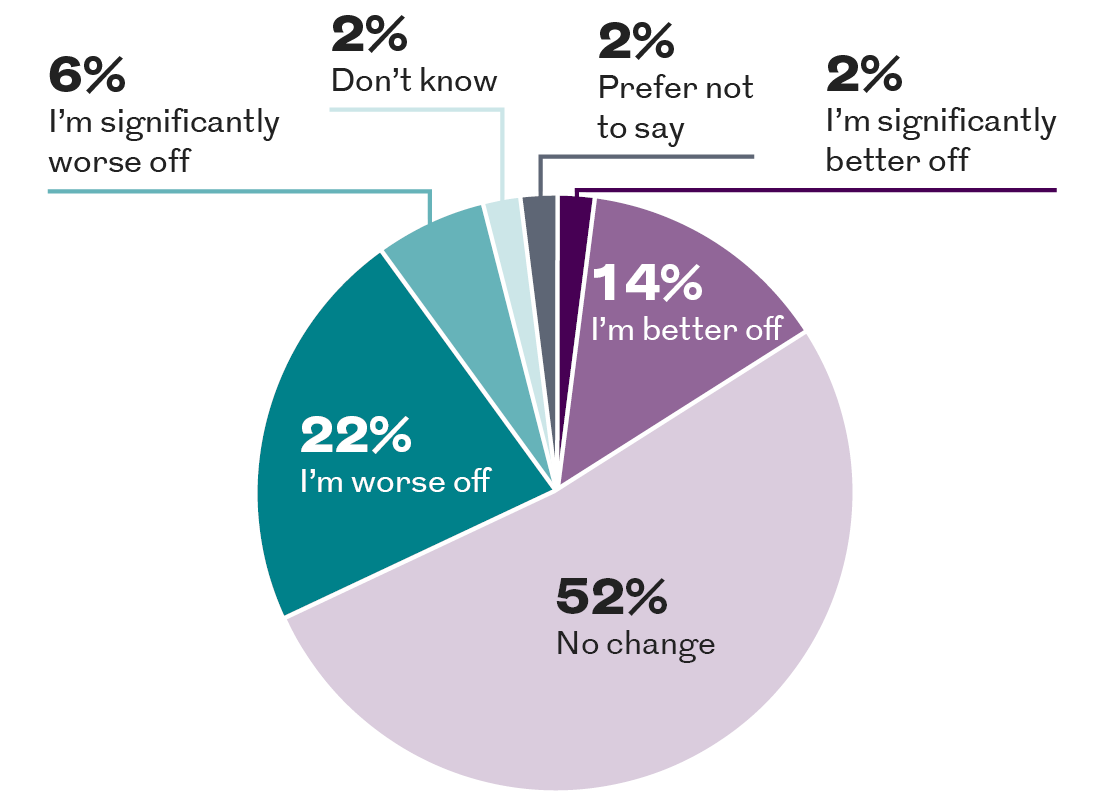 I'm significantly better off 2%
I'm better off 14%
No change 52%
I'm worse off 22%
I'm significantly worse off 6%
Don't know 2%
Prefer not to say 2%
You may find yourself being part of the majority or maybe in the minority when getting some perspective on financial wellbeing. But importantly there are no rights or wrongs when it comes to your financial wellbeing
You'll find helpful articles and guides in the financial wellbeing section.