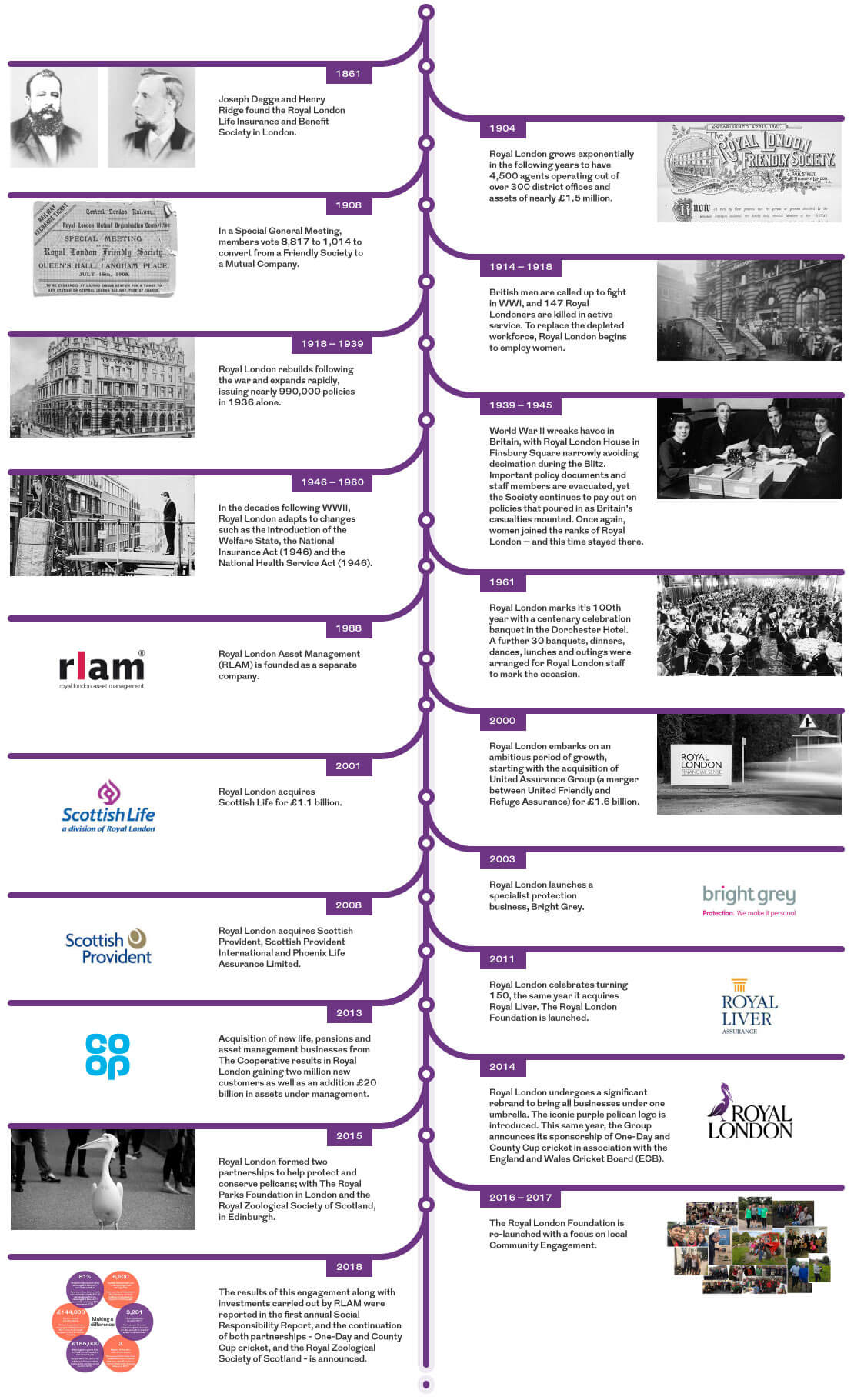 1861 – Joseph Degge and Henry Ridge found the Royal London Life Insurance and Benefit Society in London.
1904 – Royal London grows exponentially in the following years to have 4,500 agents operating out of over 300 district offices and assets of nearly £1.5 million.
1908 – In a Special General Meeting, members vote 8,817 to 1,014 to convert from a Friendly Society to a Mutual Company.
1914 – 1918 – British men are called up to fight in WWI, and 147 Royal Londoners are killed in active service. To replace the depleted workforce, Royal London begins to employ women.
1918 - 1939 – Royal London rebuilds following the war and expands rapidly, issuing nearly 990,000 policies in 1936 alone.
1939 – 1945 - World War II wreaks havoc in Britain, with Royal London House in Finsbury Square narrowly avoiding decimation during the Blitz. Important policy documents and staff members are evacuated, yet the Society continues to pay out on policies that poured in as Britain's casualties mounted. Once again, women joined the ranks of Royal London – and this time stayed there.
1946 – 1960 – In the decades following WWII, Royal London adapts to changes such as the introduction of the Welfare State, the National Insurance Act (1946) and the National Health Service Act (1946).
1961 – Royal London marks it's 100th year with a centenary celebration banquet in the Dorchester Hotel. A further 30 banquets, dinners, dances, lunches and outings were arranged for Royal London staff to mark the occasion.
1988 – Royal London Asset Management (RLAM) is founded as a separate company.
2000 – Royal London embarks on an ambitious period of growth, starting with the acquisition of United Assurance Group (a merger between United Friendly and Refuge Assurance) for £1.6 billion.
2001 – Royal London acquires Scottish Life for £1.1 billion.
2003 – Royal London launches a specialist protection business, Bright Grey.
2008 – Royal London acquires Scottish Provident, Scottish Provident International and Phoenix Life Assurance Limited.
2011 – Royal London celebrates turning 150, the same year it acquires Royal Liver. The Royal London Foundation is launched.
2013 – Acquisition of new life, pensions and asset management businesses from The Cooperative results in Royal London gaining two million new customers as well as an addition £20 billion in assets under management.
2014 – Royal London undergoes a significant rebrand to bring all businesses under one umbrella. The iconic purple pelican logo is introduced. This same year, the Group announces it's sponsorship of One-Day and county cup Cricket in association with the England and Wales Cricket Board (ECB).
2015 – Royal London formed two partnerships to help protect and conserve pelicans; The Royal Parks Foundation in London and the Royal Zoological Society of Scotland, in Edinburgh.
2016 – 2017 – The Royal London Foundation is re-launched with a focus on local Community Engagement.
2018 - The results of this engagement along with investments carried out by RLAM were reported in the first annual Social Responsibility Report, and the continuation of both sponsorship partnerships is announced.