Why does how we invest matter?
The companies we invest in make their money from activities like selling consumer goods, healthcare or key technologies. As we explain on our 'Where does my pension go' page, the idea is that as companies grow, so too does the value of your pension.
We also think about what the companies are doing in the real world and how they are doing it. We ask things like:
are they fair?
are they prudent?
do they look after the environment and the communities they serve and operate in?
All of this is as important as the returns. In fact, we believe that how companies manage these big issues actually affects the returns they make.
So what they do with the money they receive from pension investors like you, through pension companies like Royal London, can make a big difference on behalf of all of us, to the future of the world.
That's why as a pension company acting in your best interests and in the best interests of society, our job is to make sure these companies are behaving as responsibly as possible, in every way.
At Royal London we are committed to be a Responsible Investor.
And that means looking at the bigger picture.
It's about looking at Environmental, Social and Governance factors, or 'ESG' for short.
For example, we might look at a company's position on environmental responsibility, cyber security, or boardroom diversity.
As part of this commitment, we're asking all our asset managers to consider financially material ESG risks and opportunities when they make investment decisions.
And to be good stewards by voting and engaging with companies to improve the way they're run.
We fully expect all asset managers who we choose to work with to be putting these principles into place.
To us, Responsible Investing isn't about choosing values over value - it's about managing risk, making better investment decisions, and generating better long-term results for our customers.
Where we invest
In the table in the next section, you can see the type of companies your pension is invested in.
These are the top ten investments in the Royal London workplace 'default' pension fund, which 80% of our workplace pension customers are invested in. Default just means the fund selection that is automatically allocated.
You might recognise some of the names - they might even be companies you buy from.
Last updated
The information in this table was accurate and correct on 31 December 2020.
The top 10 companies in the Royal London default pension fund
| | |
| --- | --- |
| Company | What it does |
| Apple | Technology |
| Microsoft | Technology and computing software |
| Shell | Oil, exploration and energy |
| Amazon.com | Online retail |
| Astrazeneca | Pharmaceuticals |
| Unilever | Consumer goods |
| Taiwan Semiconductor Manufacturing | Manufacturing |
| Alphabet | Google holding company |
| Rio Tinto | Mining |
How do you make my money responsible?
So that we can meet our commitment to responsible investing, we ask our asset managers to 'vote' at Annual General Meetings (AGMs) and also 'engage' with the companies you invest in through your pension.
This involves discussing, questioning and helping to shape their policies on real world issues - things like CO2 emissions, global poverty or executive pay.
As shareholders who own stakes in companies, we can state the case for change if we believe it is necessary and in the interests of pension customers as well as the wider world.
Sometimes changes to multi-billion pound companies can take time and can have significant implications, so we try to take a big picture view.
Because of this ability of shareholders to prompt change at big companies, your pension is actually powerful.
Below are some of the issues we engage with companies on:
Environmental, ie. CO2 emissions, plastics
Social, ie. modern slavery, housing
Governance, ie. executive pay, tax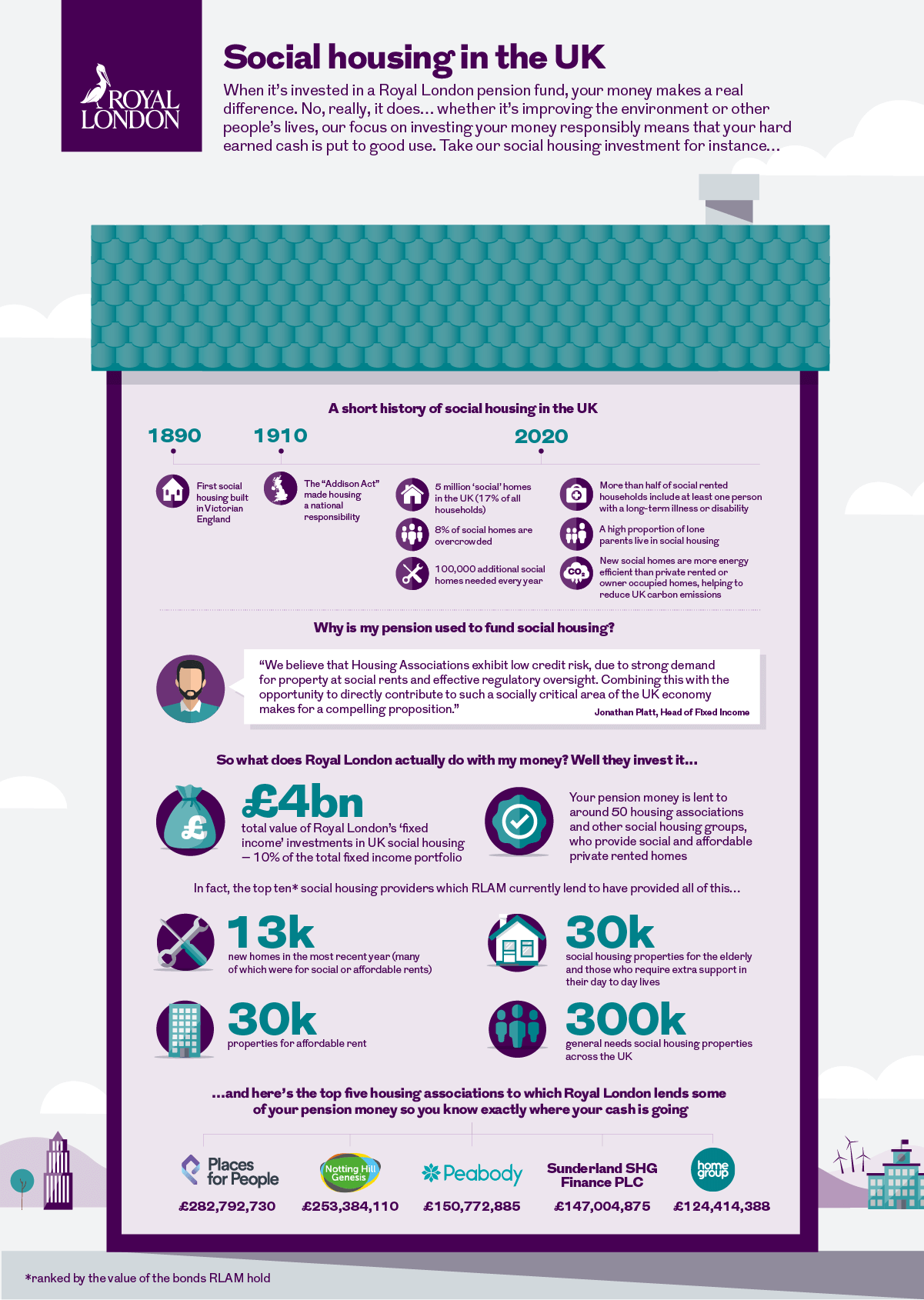 A short history of social housing in the UK
1890
- First social housing built in Victorian England
1910
- The "Addison Act" made housing a national responsibility
2020
- 5 million 'social' homes in the UK (17% of all households)
- 8% of social homes are overcrowded
- 100,000 additional social homes needed every year
- More than half of social rented households include at least one person with a long-term illness or disability
- A high proportion of lone parents live in social housing
- New social homes are more energy efficient than private rented or owner-occupied homes, helping to reduce UK carbon emissions
Why is my pension used to fund social housing?
"We believe that Housing Associations exhibit low credit risk, due to strong demand for property at social rents and effective regulatory oversight. Combining this with the opportunity to directly contribute to such a socially critical area of the UK economy makes for a compelling proposition."
Jonathan Platt, Head of Fixed Income
So what does Royal London actually do with my money? Well they invest it…
£4bn – total value of Royal London's 'fixed income' investments in UK social housing – 10% of the total fixed income portfolio
Your pension money is lent to around 50 housing associations and other social housing groups, who provide social and affordable private rented homes.
In fact, the top ten* social housing providers which RLAM currently lend to have provided all of this…
- 13k new homes in the most recent year (many of which were for social or affordable rents)
- 30k social housing properties for the elderly and those who require extra support in their day-to-day lives
- 30k properties for affordable rent
- 300k general needs social housing properties across the UK
… and here's the top five housing associations to which Royal London lends some of your pension money so you know exactly where your cash is going:
Places for People – £282,792,730
Notting Hill Genesis - £253,384,110
Peabody - £150,772,885
Sunderland SHG Finance PLC – 147,004,875
Home Group - £124,414,388