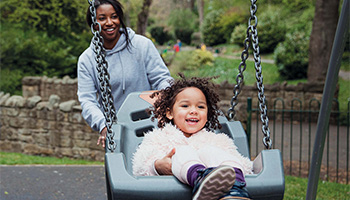 With a Royal London Menu Plan, you'll have access to our Helping Hand support service.
Helping Hand includes a wellbeing support service, designed to help you maintain a healthy lifestyle. It gives the plan owners online access to a range of hand-picked early care medical services, so you have the help and advice you need to stay fit and healthy and help stop small health issues becoming a big problem.
A Helping Hand with wellbeing
There might be times when you want some help to keep your wellbeing on track. When you choose to take out a Menu Plan, the plan owner will get online access to a range of hand-picked early care medical services, which can help you understand how small changes in your lifestyle can help to improve your overall health.
Once your plan starts, you'll get an email from us inviting you to register for My Royal London, our customer portal. From there you'll be able to register with LiveSmart, where you'll complete a brief health questionnaire. You'll then get a personalised health report from LiveSmart and full access to the Helping Hand wellbeing services. Your health report includes tips on how to improve or maintain your health and provides recommendations of the wellbeing service that can best support you with your goals:
HealthHero
24/7 access to virtual GP consultations by experienced, NHS doctors. Handy if you're struggling to see your regular GP.
Thrive: Mental Wellbeing:
With this NHS approved app, you get personalised recommendations to help prevent, detect and self-manage mental health conditions, such as stress and anxiety. They have a range of techniques to help you build your resilience and improve your overall mental wellbeing.
TrackActiveMe:
Created by physiotherapists, this app can help diagnose a musculoskeletal problem and gives you access to physiotherapy advice and personalised exercises to support your recovery from a wide range of injuries and conditions. You also have access to a library of exercises for the home or workplace, to help you stay strong and injury-free.
Rest assured, any information you share with our wellbeing partners won't affect the terms of your Royal London plan, or be taken into account if you need to make a claim.
Read our Helping Hand privacy notice to find out how we use our customers' personal information.
A Helping Hand with recovery
If, at any time you (the plan owner), or your partner and children, suffer a serious physical or mental illness, injury or bereavement, Helping Hand will be there to offer support – even if you don't make a claim.
You can contact RedArc, who'll give you regular support from a dedicated nurse. They'll provide tailored and personal support whenever it's needed, for as long as it's needed.
Your dedicated nurse can also give you relevant literature, help to find useful organisations, and can organise additional services such as therapies, counselling or a second medical opinion, if it's needed.
Independent helplines
You'll also get access to additional independent helplines to support you when you need a professional opinion or independent advice:
Legal helpline

Legal professionals will help you deal with difficult situations such as employment rights, wills and probate or inheritance tax.

Career helpline

If your health has changed or you've been made unemployed the career helpline can guide you back to work or help you to widen your skills, research the job market and write a great CV.

Medical helpline

If you don't feel you need the in-depth support that's available from a dedicated nurse, you can use the medical helpline. Healthcare professionals will answer any questions you might have about your general health.
Helping Hand is a package of support services and each service is provided by third parties that aren't regulated by either the Financial Conduct Authority or the Prudential Regulation Authority. These services aren't part of our terms and conditions and don't form part of your insurance contract with us, so can be amended or withdrawn at any time. This means that you or your family's access to these services could be amended or withdrawn by us in the future.