Everyone wants their son or daughter to enjoy an idyllic childhood, filled with carefree adventures, fun and friendship. And a lot of that is centred around the environment in which they grow up.
People take a variety of approaches when it comes to finding the right location. Many choose to settle down close to where they grew up. Recent research found that 55% of UK homeowners1 live within 15 miles of their hometown. Those with children stay even closer – nine miles nearer on average.
One key reason is to maintain strong bonds with friends and family.
When you have a young family, there's nothing better than knowing the grandparents are near at hand, ready to help look after the children and give frazzled parents the occasional night off.
In turn, many grandparents want to be there for their families, providing emotional, and where possible, financial support, to help their loved ones in those early years of parenting.
Making the right move
But that's not how everyone responds to this life-changing experience. Some parents-to-be decide to up sticks and relocate in order to give their children the best possible start. They want to find the perfect spot to bring up a family; somewhere that combines a good quality of life, high standard of education, and abundant opportunities.
Fortunately, we can help. Our team has identified the best places in England for families to thrive. By combing through the latest, verified data on crime levels, community engagement, education standards and more, we can reveal the areas of the country that offer the best possible quality of family life and help you plan your family's future, from the early years to beyond.
Spoiled for choice
The good news is that you are spoiled for choice. We have identified lots of great family-friendly places to live across the country, from Cheshire in the North, through to the Midlands and Home Counties, and right out to Devon and Cornwall in the West Country. No doubt about it, England is a great place to bring up children.
But after our researchers crunched the numbers, there was a clear top three. Coming in at number one is the beautiful county of Sussex. In second place, possibly to the surprise of people who live outside the capital, is London.
And in at number three is an area which offers both urban and rural idylls for the family – Gloucestershire.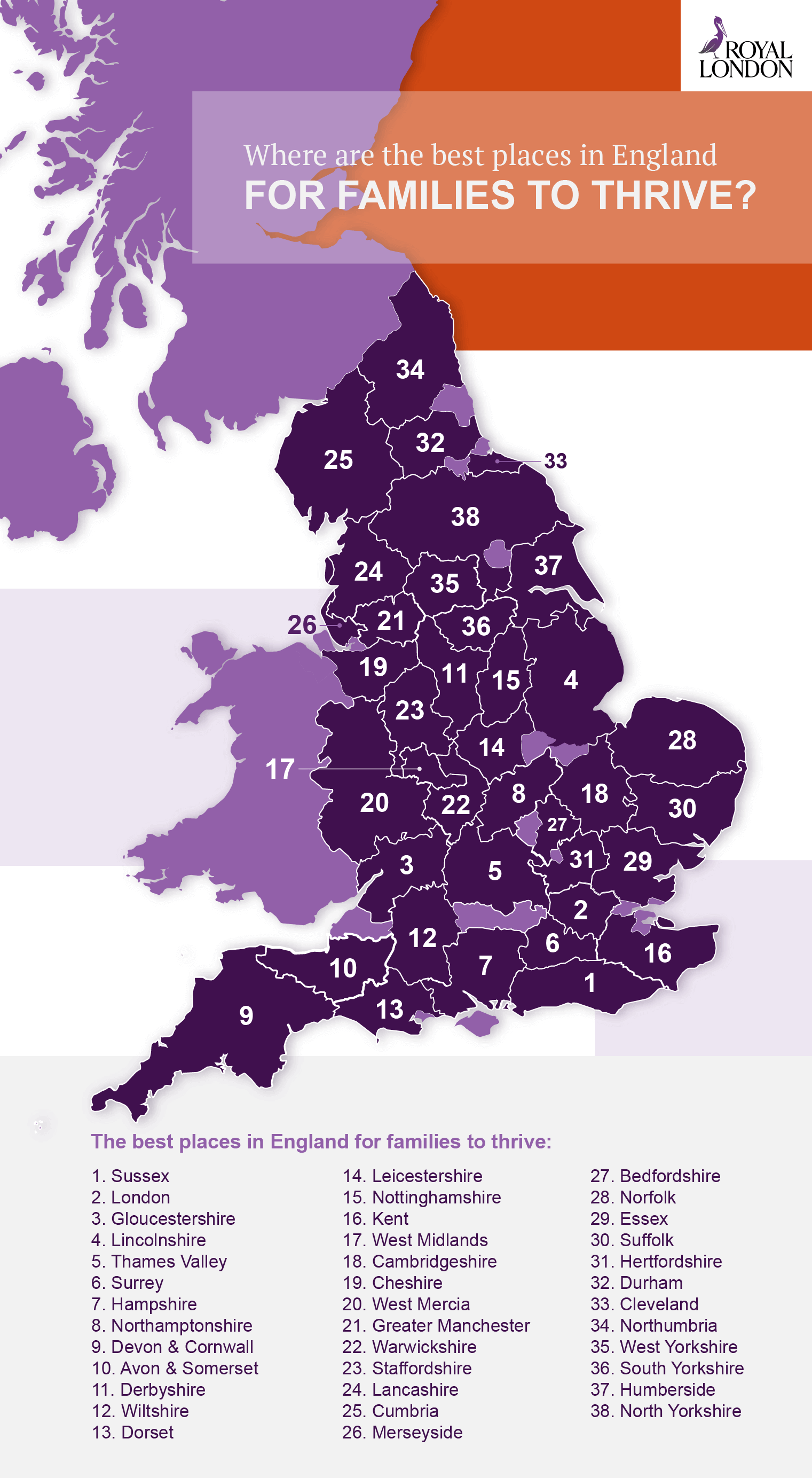 Sussex, one of the best places for families
This historic county has it all for families: stunning coastline, the vibrant city of Brighton, its own National Park; the University of Sussex, which is consistently ranked one of the best in Britain;2 and a thriving arts scene – it was in Chichester that the National Theatre was born.
Sussex brings together a fierce independent spirit with unbeatable work-life balance. And that is a joyful combination, as the government's own research confirms.
According to the Office for National Statistics,3 Sussex towns like Horsham and Chichester have a happiness rating of well above seven out of ten.
Family days out are one of the great joys of bringing up children, and Sussex has the best of both coast and countryside. The High Weald Area of Outstanding Natural Beauty boasts sheltered woodland, ancient tracks and dramatic valleys – which are all perfect for young explorers.
Eastbourne, with its proximity to the sea, fresh air and relatively decent weather, has long been a favourite with over 50s looking for new opportunities and adventures, whilst enabling them to be close to their children and grandchildren.
The Seven Sisters chalk cliffs are a stirring sight for all ages. You can play Pooh Sticks on the bridge where Winnie-the-Pooh invented the game in Ashdown Forest, or indulge in an old-fashioned seaside stroll along the fabulous Palace Pier, Brighton.
And when the little ones grow up, the county offers some brilliant job opportunities, in sectors as varied as engineering, technology, culture and media.
London, surprisingly, one of the best places in England for families
The capital city is an extraordinary modern metropolis, but it is not always the first place that springs to mind when it comes to raising a family. However, our research shows there are an abundance of reasons for young parents to choose London.
Financially, it is the wealth engine of the UK. Bringing up a family is expensive, and while London tops the league table for average earnings in the country, it's also one of the most expensive places in the UK to buy a house, with properties on average costing nearly £600,000.4
For young families moving to the capital, future planning is key, if only to help them protect their family home and way of living. Typically, this is done by setting up trust funds, savings accounts for their children or taking out life insurance.
But there's more to the capital than simply money. It is one of the best cities in the country for schools. According to the Education Development Trust,5 London schools continue to be an extraordinary success story: 'By common consent, the government school system in London achieves extremely good results compared to the rest of England, and students from disadvantaged backgrounds do particularly well.'
The charity Full Fact6 confirms that London pupils outperform England as a whole when it comes to exam results – and even the schools in areas where low pay is most common are above the English average. Meanwhile, according to Real Schools Guide 2020,7 six primary schools among the top 10 nationally were based in the capital.
In addition to the brilliant schools, are the unparalleled opportunities that your children will enjoy when living in London. It is teeming with artistic, sporting and cultural activities. There are no fewer than 11 national museums in the capital, from the British Museum to the National Gallery, all of which offer free admission – offering plenty of places for grandparents to spend quality time with their grandchildren! And the cosmopolitan nature of the capital ensures your children will benefit from meeting peers from all around the world – which is possibly the best way to learn.
Gloucestershire
Gloucestershire is one of the faster growing counties in the UK. Under the latest projections, its population will increase by 14.8% by 2041 – compared to a national increase of 12.1%.8
It seems more and more people are discovering the delights of a county which boasts a magical mix of family-friendly market towns, the historic city of Gloucester, picture-postcard villages, and wonderful countryside that embraces both the Cotswold Hills and the ancient Forest of Dean.
When considering Gloucestershire as a place to relocate, there's no better place to start than at the county town itself. There are a myriad of reasons why Gloucester is the perfect home for a young family. It has some great schools, notably the Crypt Grammar, and Denmark Road High, close to the cathedral.
The city hosts many family events, from the Tall Ships Festival to the Henson Pig Trail, and you can enjoy Abbeymead's Clock Tower Park all year round, with its great play area. As a bonus, the cathedral will be familiar to fans of Harry Potter – its historic cloisters were transformed into the corridors of Hogwarts in two of the films.
But Gloucester is only one option in a county teeming with family-friendly locations. Cheltenham is one of the UK's cultural hotspots, with internationally renowned festivals covering everything from literature to science. Stroud is found at the heart of the Cotswold Area of Outstanding Natural Beauty. As well as being home to a fine Norman abbey, Tewkesbury hosts family-friendly events, including the Water Festival, featuring an evening procession of lit boats culminating in a fireworks display.
And all this in a county rated as one of the top three safest places to live in Britain,9 according to the latest crime figures. Now you know why so many people are hotfooting it to Gloucestershire, will you join them?
Best places for families in the north of England
There may not be any northern cities in our top three, but that's not to say there aren't loads of great places for families to grow up!
Cheshire comes out as top of the north, offering a relaxed pace of life, boasting beautiful landscapes, and a National Park right on its doorstep – a perfect place for spending quality family time.
Greater Manchester is in second place, with excellent school and university opportunities for children; and a good mixture of house prices, from leafy Didsbury, to more affordable yet family-friendly options like Chorlton and Prestwich.
Durham has come out as the best place for families to thrive in the North East. West Yorkshire – consisting of Bradford, Calderdale, Kirklees, Leeds and Wakefield – the top in Yorkshire.
Looking for the best place for your family to thrive is just one of the steps you can take to protect and give them the best possible start in life.
Other ways could include setting clear financial goals to secure your family's future.
For example, if you have a life insurance policy, you could put it in trust to enhance the benefits for your loved ones. You could also make a will, or just simply, make financial literacy part and parcel of your future planning.
These are all small but incremental steps that can help your family thrive, wherever you choose to make your home.
1Source: David Wilson, Homeowners Satisfaction Survey 2017
2Source: The Complete University Guide League Tables
3Source: Office of National Statistics: Personal Well-Being in the UK: April 2018 to March 2019
4Source: Zoopla House Prices in London, July 2020
5Source: Education Development Trust, Sustaining Success: High Performing Government Schools in London
6Source: Full Fact, London schools outperform the rest of England
7Source: Real Schools Guide 2020
8Source: Gloucestershire County Council Population Profile (2019)
9Source: Gloucestershire Live, Safest Places to Live in the UK