Young women putting financial futures at risk by opting out of pensions
Young women are putting their future retirement security at risk by opting out of their workplace pension according to Royal London.
Analysis of the mutual insurer's auto-enrolment book shows a worrying spike in opt outs with 10.5% of women aged 22-29 opting out of their workplace pension. This compares to 8.1% of men in the same age group.
Women in their 20s and 30s face significant challenges in saving for retirement. Many leave the workforce to look after children and often only return to work on a part time basis. Added to this is managing the high cost of childcare which means many women don't feel they can afford to save for retirement.
While the difference between male and female opt outs is stark in the 20-29 age group it evens out from the age of 30. After the age of 60 the picture changes again with significantly more men than women opting out1.
Helen Morrissey, pension specialist at Royal London said:
"The data highlights a spike in women opting out of pension saving in their 20s and 30s, most likely as they face other commitments like childcare or saving for a house. While this may seem like a good idea for them in the short term to fund other priorities, opting out of a pension will only lead to greater financial problems in the future. Getting back into the habit of saving for later life is difficult for women if they have missed significant contributions so we need to do everything we can to encourage these women to stay saving for the long term."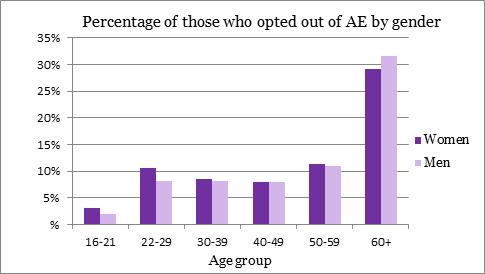 Notes to Editors
1. In September Royal London highlighted the over 60s are throwing away up to £1.75bn in retirement by opting out of pension saving: https://www.royallondon.com/media/press-releases/2019/september/over-60s-throwing-away-up-to-1.75bn-in-retirement-savings-by-opting-out-of-pensions/
2. Table of AE opt out rates by gender: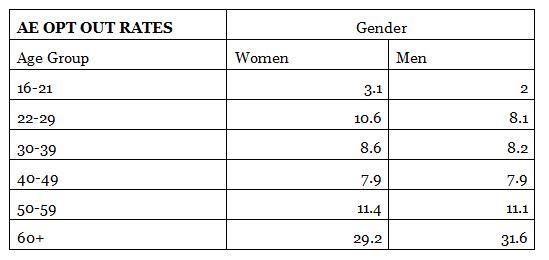 About Royal London:
Royal London is the largest mutual life insurance, pensions and investment company in the UK, with assets under management of £139 billion, 8.6 million policies in force and 4,348 employees. Figures quoted are as at 30 June 2020.
For further information please contact:
Neil Cameron, PR Manager