Funeral debt in the UK has risen by 14% as people are now borrowing £1,990, raising the total to £147m.
Funeral costs are at an all-time high with a basic funeral costing an average of £3,785
Kensal Green in London is the most expensive location, with a burial now costing more than £13,000.
Bereaved families who struggle with funeral costs are taking on an average of £1,990 debt to pay for a funeral, according to the 2019 Royal London National Funeral Cost Index. The total amount of funeral debt in the UK has risen to £147m, a 12% increase from last year.
The report found 12% of people struggled to cover the cost of a funeral, which is around 74,000 bereaved families in the UK. Of those who struggled, one in four (27%) said they went into debt from credit cards, loans or overdrafts. One in five (20%) borrowed money from family or friends and nearly one in eight (12%) had to choose a cheaper funeral.
The amount spent on a funeral between income groups varies very little, as the research shows those with an income of less than £5,000 a year spend at least 65% of their annual income on a funeral, compared to just 3% at most for those on £150,000 or more a year. Yet state support for those on low income is inadequate as it only covers 39% of the cost of a simple funeral.
Rising cost of funerals
Funeral costs have risen in the last year and are at an all-time high, with a basic funeral in the UK costing £3,785, an increase of £28 from last year (2018 £3,758). London remains the most expensive region with a funeral costing on average £4,939, whilst Northern Ireland is the least expensive, with the average cost of a funeral at £2,943.
Kensal Green in London is the most expensive location for a funeral with the average cost at £8,150. A burial in Kensal Green costs more than £13,000 according to the research.
Belfast in Northern Ireland is the least expensive location with the average funeral cost at £2,943. With a burial in Belfast costing £3,042, the difference between the most and least expensive locations in the UK is more than £10,000.
Dying wishes
A third (34%) of people said the funeral cost more than they expected. Despite this, a quarter (25%) of people went above and beyond their loved one's funeral wishes, with 11 per cent of these saying they spent £1,000 more than they had discussed with the deceased.
Royal London's funeral cost expert, Louise Eaton-Terry, said:
"As bereaved families continue to take on thousands of pounds of debt to pay for their loved ones' funerals, support from the state remains woefully inadequate. The Government have tinkered around the edges and made some improvements to the Funeral Expenses Payment benefit, but the fact remains that the fund does not cover the full cost of a simple funeral. The value of the fund is seriously lacking with no serious action being taken to increase it and help support the bereaved who are being crippled with funeral debt."
Down to Earth Manager, Quaker Social Action, Claire Brandon, said:
"It is concerning that funeral debt has risen yet again this year, though not surprising. With a backdrop of funeral costs continuing to rise and the Funeral Expenses Payment remaining pitifully low, bereaved families are struggling more than ever. Those on the lowest incomes could have this debt hanging over them for years to come, adding a real financial burden, on top of the emotional impact of grief itself. The government must act soon to resolve this unacceptable situation by capping funeral costs and increasing the Funeral Expenses Payment"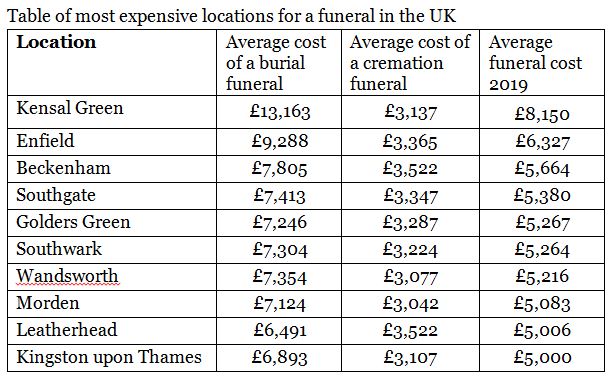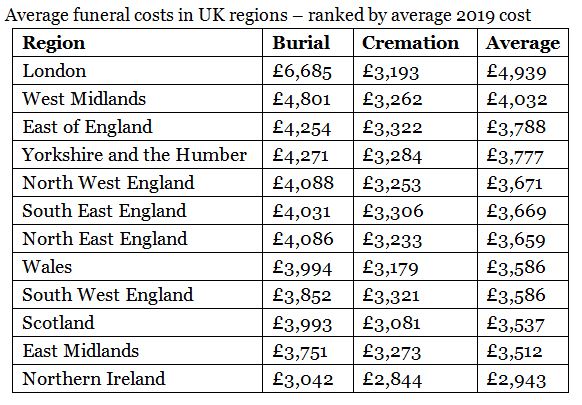 For further information please contact:
Royal London Press Office
Notes to editors
Royal London's National Funeral Cost Index is an annual study. The 2019 Index is available here: https://www.royallondon.com/siteassets/site-docs/media-centre/60448-national-funeral-report-2019-art.pdf
Around 74,000 (73,935) bereaved families in the UK struggled with funeral costs. This is calculated by multiplying the proportion of people who struggled (12%) by the number of UK deaths in 2018 (614,589).
The difference in price for the average funeral cost in the UK in 2018 compared to 2019 is £27.60, which has been rounded up to £28.
The Royal London National Funeral Cost Index is published in partnership with The Institute of Cemetery and Crematorium Management (ICCM) – the organisation which represents professionals working in burial and cremation authorities and companies throughout the UK.
Royal London commissioned two surveys from YouGov which took place between April and May 2019. The first was made up of 2,050 nationally representative UK adults aged 18+ who had organised a funeral within the past five years. The second was made up of a random sample of 1,084 UK adults aged 18+ who were asked about their funeral spending.
The Institute of Cemetery and Crematorium Management (ICCM) collected costs for 299 UK crematoriums and 598 burial costs for two cemeteries close to the crematoriums to allow us to analyse the comparative costs of cremation and burials. Fieldwork for ICCM took place between April and June 2019.
Yourfuneralchoice.com provided data provided data on the most expensive, least expensive and average funeral directors' costs at 299 locations across the UK. The data is based on mystery shopping of funeral directors to gather information and prices for a comparable 'simple funeral' to include collection/care of the deceased, a basic coffin, hearse, and to manage a simple service at a crematorium. Prices based on this research do not include third party costs which fall outside of the funeral directors immediate control or minister/celebrant fees.
About Royal London:
Royal London is the largest mutual life insurance, pensions and investment company in the UK, with assets under management of £139 billion, 8.6 million policies in force and 4,348 employees. Figures quoted are as at 30 June 2020.