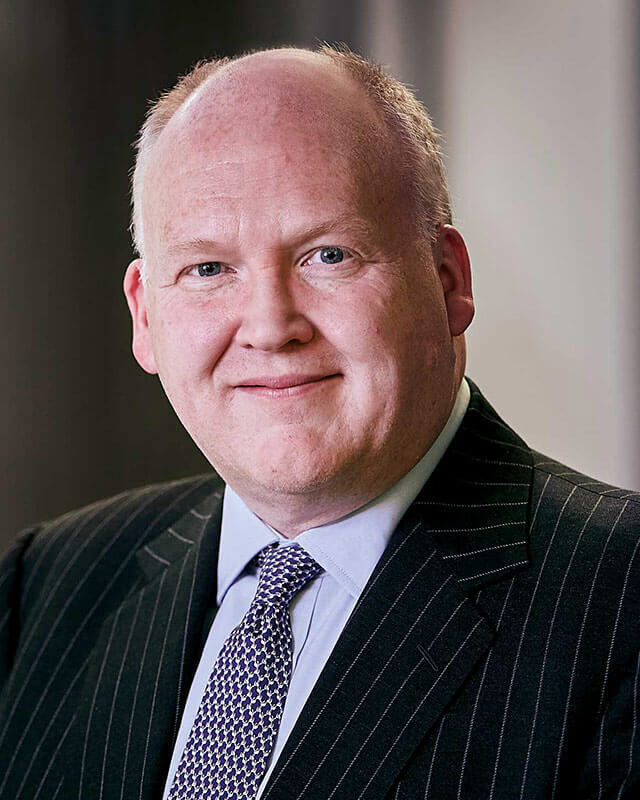 This year's Annual General Meeting (AGM) took place on Wednesday 2 June 2021 at etc.venues, Fenchurch Place in London.
The AGM was broadcast to members online, with a restricted number of employee members present, ensuring we fulfilled the legal requirements for a valid meeting.
"We are all very proud of our mutual status and I believe our culture, proven resilience and the commitment of our colleagues will help us to continue to create value for our members, customers and society."
- Kevin Parry, Chairman
The results of the voting on our Resolutions are shown further down the page after the videos of this year's AGM.
Take care and stay safe. We look forward to seeing you at our 2022 AGM.
Watch the 2021 AGM
Kevin Parry: Good Morning, everybody. I'm Kevin Parry, the Chairman of Royal London, and it's my pleasure to welcome you to the annual general meeting of the Royal London Mutual Insurance Society Limited. As this is the first time we've hosted our AGM online, we'd like to give everyone a few extra minutes to ensure that they have time to log in before we commence the formal business of the meeting. While we do that, we would like to play a short video demonstrating how Royal London and our colleagues responded to the challenges of the last year. Thank you.
Voiceover: The COVID-19 outbreaks affected everyone in the UK as we've had to adapt to the new normal. At Royal London, we believe it's brought out the best in our people. We've been looking out for each other, for our network of advisors, for our members and customers and for our communities, locally and nationwide. Here are just some of our stories. When Royal London went into Lockdown, 98% of our people were working from home within six days, making sure we could keep service levels at high standards. Working from home helped bring us closer together and meant juggling much more than the normal day job for some of our colleagues. But not all roles could be done at home, meaning some colleagues needed to work in the office to keep our services running.
Luke Palmer: Hi, my name's Luke Palmer and I'm one of the Team Managers in our Customer Relations Department. Fortunately, we have had a brave individual, Vicky Scott, from my Team, who has agreed to go into the office and facilitate all of our customers' requests. We wouldn't have been able to do it without her, so I just wanted to take this opportunity to say, 'Thank you Vicky. You've don't a great job.'
Voiceover: Recognising the importance of mental as well as physical well-being has been key in helping all of our people work through the pandemic. Our network of advisors are on the front-line, working with members and customers to secure their financial well-being, so it's been crucial that we give them all the support they need. Members and customers are at the heart of everything we do at Royal London, so we made sure that, in a time of huge uncertainty, we provided a level of service they could rely upon. With so many conflicting opinions during the crisis, we've reached out to members with a clear voice in order to provide information they can trust.
Becky: Today, I've been recording a podcast aimed at helping parents and prospective parents plan their finances around having children.
Voiceover: As local communities felt the pressure under lockdown, our colleagues have given their support and time to help the most vulnerable. We signed up to the C19 business pledge and looked for ways to support charities and good causes on a nationwide level. We also continued to look at other ways of supporting our charity partners through virtual lunch and learns, fundraisers and creating a virtual and remote volunteering model. These are just some of the stories from Royal London that show how we've all come together during the outbreak. We're always proud of our people, but particularly during these incredibly difficult circumstances, they've supported each other, shown determination to deliver the best service and outcomes for our members, customers and advisors, and played their part in wider society. Thank you to each and everyone of them.
Kevin Parry: Good Morning, and for the benefit of those who joined while the video was playing, I'm Kevin Parry, the Chairman of Royal London and I'd like to welcome you to the annual general meeting of the Royal London Mutual Insurance Society Limited. Firstly, I would like to thank you for joining us today. We hope the technology does not cause you, or indeed us, any challenges. It's important that we have the opportunity to update you on the progress Royal London is making, but it is even more important that you have the opportunity to ask questions of your board and to vote on our resolutions at this meeting. While this digital approach provides a solution to holding the 2021 AGM, we very much enjoy meeting and chatting with you informally over light refreshments and we're looking forward to when we will be able to welcome you again, hopefully in person, hopefully with a fair wind in 2022. As you will appreciate, due to some of the restrictions still in place, not all members of your board are able to attend in person today. However, I'm delighted to say that many of them, included the Chairs of our committees, are online and I'd like to begin by introducing the Independent Non-Executive Directors, who are joining us online today in alphabetical order.
First, Kal Atwal. Kal is a member of the Risk and Capital Committee, who joined the board last year. She was formally a, a founding Managing Director of CompareTheMarket dot com and therefore has a close interest in Customer Engagement and providing good value for money. Second, Sally Bridgeland. Sally chairs the With Profits Committee and is a member of the Risk and Capital Committee. She is an experienced actuary with extensive financial services and pensions insight. That brings me to Ian Dilks. Ian chairs our Investment Committee and sits on the Audit and Remuneration Committees and, from today, subject to regulatory approval, is your Senior Independent Director. Ian spent his career at PricewaterhouseCoopers, including being a partner for over 25 years, specialising in financial services. Shirley Garrood. She's chair of Royal London Asset Management. She joined at the end of last year. Shirley was Chief Financial Officer at Henderson Group and previously on the board of Hargreaves Lansdown. Tracey Graham chairs our Remuneration Committee and sits on the Investment Committee and the Risk and Capital Committee. Tracey has significant experience in Financial Services through senior positions that she held at HSBC and AXA and she was also Chief Executive Officer of Talaris, a cash management business.
Then, there's Mark Rennison. Mark is the new Chair of our Risk and Capital Committee and he also sits on our Audit Committee. Mark was Chief Financial Officer at Nationwide and formally a Partner at PricewaterhouseCoopers. And Tim Tookey, who chairs our Audit Committee and sits on the Risk and Capital Committee. Tim is an experienced Chief Financial Officer, having held positions at Quilter, Friends Life and Lloyds Banking Group. And in the room with me, I'm joined by the two Executive Directors, Barry O'Dwyer, our Group Chief Executive and Dan Cazeaux, our Group Chief Financial Officer. Dan was formally a partner in KPMG, specialising in Financial Services, and he joined the board during the course of the year. So, the makeup of the board continues to shift as we evolve and our focus is now on the future needs of your business and the diverse requirements of our members and customers. During the year, we were delighted to appoint a number of high-calibre people to the board, with Kal Atwal, Dan Cazeaux, Shirley Garrood, Mark Rennison and Tim Tookey all joining us. They bring significant experience across a range of different sectors and interests and diverse perspectives and insights. And this month, we will also be welcoming a further director, the Rt Hon Ruth Davidson.
So, I'd like to, before we move on, take an opportunity to acknowledge David Weymouth, who cannot be with us today and who is retiring after the meeting having served on the Royal London Board for nine years, the maximum tenure of an independent Non-Executive Director. During that time, David has made a significant individual contribution to the business, including most recently, as the Senior Independent Director and Chairman of the Risk and Capital Committee. On behalf of the board, I would like to thank him for his valued commitment to the company and also his support to me personally and we all wish him well for future. Due to the remote nature of today's meeting, you will be able to vote on our resolutions via the portal while the presentations are taking place. You'll find guidance on how to vote next to this video window. I'm able to declare that a quorum is present. The notice convening the meeting is now being displayed on screen and, with the consent of the members present, the notice is taken as read. Thank you. The voting today will be conducted on a poll. Every member or duly appointed proxy is entitled to one vote. If you are not a member, or duly appointed proxy, you are not entitled to vote on our resolutions. Voting is now open and will close just before the end of today's meeting. The results of the vote will be available on the Royal London website later today.
So, turning to today's business. First, I will reflect on the year, and how Royal London is progressing towards our strategic aims. I'll then invite Barry O'Dwyer to talk through our 2020 business performance and to discuss our priorities for the next year. We'll then move on to questions and answers. I will then close the online voting on our resolutions before bringing the AGM to a close. It probably goes without saying that 2020 was challenging in so many ways. However, it was also extraordinary in many ways too. It was challenging for all the obvious reasons, from the devastating tragedy of losing loved ones, to the hardship of many losing their livelihoods. But it was extraordinary in that the human spirit prevailed giving rise to heroes in all walks of life, but also the speed of medical innovation in developing vaccines at a rate never before seen. While some might have predicted such an event would take place, no one knew when it would happen and we were all taken by surprise at the ferocity of this pandemic. As you will have seen in our opening video, we responded quickly to adapt to the ways that we work. 98% of our colleagues were operating from home within days of the first lockdown and only a small number of employees who were required to perform key worker roles attended our premises. We don't for one minute underestimate the challenges this posed for many of our colleagues. Balancing work with demands of home schooling or other caring responsibilities. But we couldn't have asked for more from anybody who gave their response to us, demonstrating professionalism and flexibility to continue to deliver the service our customers and members have continued to come to expect. So, on behalf of the board, and presumptively, if I could, on behalf of all of our members, I'd like to thank everybody for their exceptional efforts.
As a mutual, we put our customers and their families first. During 2020, we received nearly 100,000 calls in relation to bereavements and we paid over £13 million in coronavirus-related claims, helping the families of more than 2,100 customers. We also recognise we have a role to play beyond servicing the products customers have with us. We place importance on supporting and protecting the most vulnerable and challenged members of society. And so, during the year, we made total charitable contributions of £1.1 million in the UK and Ireland, including half a million pounds to the National Emergency Trust Coronavirus Appeal, which supported thousands of grass-roots charities across the nation who needed our help the most. We also introduced a new approach to our social impact activities to help drive our Life Shocks Agenda including announcing Turn2us as our flagship charity partner. Turn2us is a wonderful charity at the forefront of the fight against UK poverty. They are focused on promoting financial resilience and helping people to help themselves. In addition, our Helping Hands service provides many of our protection customers with valuable support, will access to a dedicated nurse and personalized support plan based on their needs should they need it during a life shock.
This year, we also launched our Changemakers programme, an initiative working with our partners Year Here and School for Social Entrepreneurs to identify and support forward-thinking social enterprises to create, develop and invest in bold ideas and sustainable solutions that will help build people's resilience to life shocks. It's an innovative project and we look forward to updating you on its progress in the future. Whilst this pandemic has clearly been the focus of much of our attention over the course of 2020, we successfully delivered on our strategic priorities as we continue to reshape our business. We sold Ascentric, our IFA Investment Platform business, and we acquired Police Mutual Group. Police Mutual serves current and former police officers, the civilians that work in the police forces and their families. It also provides services to those who serve in our armed forces. It's another business that is committed to providing the best value for its members and it was a perfect fit with our values and culture and we're delighted to welcome them to Royal London.
We've also increased our focus on environmental, social and governance elements and how we invest customers' money and indeed, how we operate as a company. We are a significant investor in other companies and we seek to positively influence the way these businesses conduct themselves. As you would expect, climate change, and how we use our position to enable the transition to a low-carbon economy is high on our agenda. We are proud to be a signatory of the Institutional Investors Group on Climate Change Net Zero Commitment aimed at achieving net zero by 2050 across our investments. We also hold ourselves to the higher standards and continue to focus on how Royal London contributes to society and reduces the impact on the planet. In 2020, I'm delighted to say we achieved net zero emissions across our operational estate by carbon offsetting. As a mutual, we are able to take a longer term view. The careful stewardship of our financial resources meant we were able to increase this year's total profit share allocation for eligible customers to £146 million. Including this year's profit share, we have now shared over £1 billion with eligible customers since its introduction in, in 2007. This enhancement in policy values is only available from mutuals. It's a milestone we are very proud of and we are committed, more committed than ever, to continue to generate profit, growth and strong investment results for the benefit of our members and customers and doing that in a sustainable and responsible way. So, on that point, I would like to pause and hand over to Barry to share his reflections on his first full year at the helm and to outline our plans for the year ahead. Barry.
Barry O'Dwyer: Thank you Kevin and good morning everyone. I would like to start by echoing your sentiments about our colleagues. Throughout the last year, they've not just risen to the challenges of the pandemic, they've gone above and beyond to meet the needs of our customers, members and business partners, whilst also ensuring our company has continued to make progress on many fronts. It's a great privilege to lead a company and team with such a strong commitment to customers and always doing the right thing. As we emerge from the pandemic, our focus will be on helping customers in even more ways than before. News coverage over the last twelve months has brought a daily reminder of the kinds of life shocks that people suffer. Families lose loved ones or encounter a sudden drop in their income. We want to support people in preparing for such events and dealing with them when they happen. Now, this isn't always easy. As an example, death is often viewed as a taboo subject. However, we know the difference it can make to a grieving family to have had some basic discussions with loved ones before it happens. Last year, we ran a successful campaign, Lost for Words, to help encourage open conversations about death and grief and in the last few months we've followed that up with the launch of a book, How to Die Well, which contains a mixture of practical, emotional and financial guidance aimed a better preparing people for death, dying and loss. It's available on our website and I encourage you to take a look.
In such extraordinary times, financial results on their own are unlikely to capture the spirit of what we've achieved over the past year, but it is important to highlight the headline numbers. 2020 was a uniquely challenging year and, as a result, our operating profit before tax was lower at £41 million. The economic uncertainty, market volatility and disruption to the services provided by intermediaries by the national lockdowns impacted pension savings. Workplace pension volumes were lower as companies deferred decisions to move pension scheme providers. That led to the present value of new business premiums for pensions reducing by 24% to £7.2 billion. However, we saw increased demand across our intermediated protection products, with present value of new business premiums increasing by 18% to £962 million. This performance helped us to increase our market share in this part of the market in both the UK and Ireland. Royal London Asset Management successfully navigated volatile financial markets, increasing our assets under management to £148 billion. This was driven by positive market movements and net in-flows of £3.9 billion with great interest in particular in our successful range of sustainable funds. Our investment performance remained exceptionally strong, with 95% of active managed funds out-performing their benchmark over three years, which of course, benefits our customers' pensions investments.
While market conditions were challenging this year, as a result of our long term approach, our capital position remains robust, allowing us to continue to invest in systems and services to benefit our customers and to pursue future growth opportunities and, of course, pay a profit share for eligible customers. As the Chairman has already noted, we're only able to share profits in this way because we are a mutual company. Mutuality was a great attraction for me when I took on this role and I know it is something that is highly valued by our colleagues and, of course, by you as our members. As recently as May, the board reaffirmed its long term commitment to Royal London remaining a mutual. Last year, and with the support of the board, I initiated a review of our purpose and strategy to ensure we remain a purpose-driven modern mutual and continue to evolve to meet the changing needs of our customers and members. This wasn't about a significant change in direction, but about building on our long heritage and making sure our colleagues and all of our stakeholders are clear on our future strategy, our values and the role we aim to play in society. Part of that work involved consulting with colleagues, with members, customers and business partners to help shape a new articulation of Royal London's purpose. A purpose which reflects the mutually beneficial nature of our relationships.
Our purpose, 'Protecting today, investing in tomorrow. Together, we are mutually responsible,' summarises the important role we play in the lives of our customers, protecting what they hold dear and enabling them to plan with confidence for the future. We will work with our customers to do this responsibly. Kevin has already touched on some of our strategic achievements in 2020. In addition, we have successfully reshaped the structure of our business to meet the changing needs of our customers through their different life stages, allowing us to focus on delivering capabilities that'll make the most difference. We've refreshed and increased our focus on environmental, social and governance issues, so it would be remiss of me not to mention the significant work we are doing on climate change, a challenge that will define our generation and, I think it's fair to say, subsequent generations. Like many companies, we've made a firm commitment to the Paris Agreement Target of meeting Net Zero carbon emissions by 2050 and we're carefully planning how we will track our progress in stages along the way. We'll share more with you on this during the course of this year. And like some companies, we're reshaping the investments held by our asset manager to reflect this commitment, but unlike many companies, we're looking more closely at the changes we need to make as a society and how this will affect people in the way that they live their lives, such as, the move away from petrol and diesel cars and the gradual removal of gas-fired central heating. These changes, among others, will cause disruption to jobs and livelihoods, but will equally create new opportunities for people to work in new and exciting areas, many of which are still to be fully defined.
It's important that sections of our society are not left behind on this journey and that the transition to a low carbon economy is fair. This is what we mean by a just transition and we intend to do a lot more work in supporting this as we simultaneously make the changes that are required to protect the planet. We're also continuing to focus on improving and championing diversity and inclusion and not just within Royal London. Our sponsorship of the Lions Tour is much more than helping sport to continue through the pandemic. Part of our commitment is to help level the playing field by exploring the formation of a women's Lions team, something that has never been achieved to date and which would undoubtedly inspire a future generation of female players. And I'm incredibly excited by the opportunity it presents. Sports sponsorship of this nature works for the enjoyment of society, whilst also spreading the word through marketing of Royal London and its products and services. This summer, we're also sponsoring men's and women's one-day cricket and we wish the England and County cricket teams much success, hopefully in front of large crowds at the grounds and on television and radio. Finally, I'd like to close by returning to the subject of mutuality.
As the UK continues to see a decline in the number of mutual insurers, our position as the largest mutual insurance company in the UK becomes ever more important. Mutuals are thriving in other countries across the world. In many cases, forming more than half of their respective markets. Indeed, it's perhaps more appropriate to consider Royal London within its global peer group where we rank among the top 25 by assets under management. Being member owned is very different from a listed company model, where their key focus has to be on the return they generate for shareholders. But being mutual is much more than just about the corporate structure, it's about being genuinely purpose-driven and placing the customer first, enabling us to take a longer term view and make decisions, not only in the interests of our members and customers, but that are also good for the wider communities in which we operate. I hope that you will see this in everything that we do. Thank you.
Kevin Parry: Barry, thank you very much. We're all very proud of our mutual status and I believe our culture, proven resilience and the commitment of our colleagues will help us to continue to create value for our members, for customers and society.
Questions & Answers
Kevin Parry: I'm going to ask a member of the Royal London Team who is sitting at home to ask you the first question which will be submitted by a member-, which has been submitted by a member a few weeks ago.
Question: Good morning. I would like to ask a question to the board on behalf of Eva Weightman. I note that none of the directors seeking election has any personal experience in sustainable finance, carbon pricing or net zero agenda. I'm interested to hear how Royal London plans to tackle this important issue and whether it will consider appointing an expert with proven experience in this field.
Kevin Parry: Well, thank you. It, it is indeed a very important issue and it is something that has taken lots of time and an increasing amount of board time. You're right in saying that nobody on the board is a specialist in this area of climate change but that's not to say that there isn't a lot of people who have devoted time to getting up to speed and becoming knowledgeable on it. Personally, I, I, for example, have attended Accounting for, for Sustainability Conference led by the-, by His Royal Highness the Prince of Wales and I've also had-, been on calls with Mark Carney and Kofi Annan on the subject. Obviously, they were video calls in the-, in the last year but no doubt there'll be opportunities for personal calls. I know that every board member's obviously had training with us, but has also attended seminars that are held for directors. But perhaps it would be helpful if I passed over to Dan Cazeaux who, who takes responsibility on the board for climate matters who can perhaps say a word or two about the executive responsibilities here.
Dan Cazeaux: Thank you, Kevin. So, as Kevin and Barry both referenced earlier, Royal London are committed to being a responsible investor and steward of our customers' money. And we recognise the key role that we have to play in achieving the goals of the Paris Agreement. To support this, within the business, we have a range of subject matter experts, both within RLAM and within the insurer, that are focused on climate change and our responsibilities. We've continued to build that team over the course of 2020 and into 2021 and we also participate in a range of industry groups as both an asset manager and as an asset owner. This includes investor groups, our role within the Association of British Insurers and engaging with our regulators. And our activities cover the, the steps we need to take to reduce the carbon intensity of our investment portfolio, as well as ensuring that we are appropriately considering the financial risks to, to the, the mutuals assets and liabilities as, as impacted by the impacts of climate change. All of that activity is, is progressing through the year and the team regularly reports, both to the board and its various committees, on the activities we've undertaken, steps that we've taken, plans for the future and the progress that we are making.
Kevin Parry: Okay, Dan, thank you. I think we-, I think that we have another question that is now ready to be asked.
Question: Hi. Another question on behalf of a member. This was submitted by Neil Fearn. Why don't you have more diversity on your board? Do you have a strategy to bring more diverse directors through your ranks and if so, how is this progressing?
Kevin Parry: Well Neil, thank you for that question. The diversity on the board has actually increased quite dramatically in the last year or so. In terms of gender balance, after Ruth Davidson joins us next week and David Weymouth steps down, we'll be close to 50/50. 45% of the board will be women and that, I think, is, by corporate standards, very high. And we've got diversity in so many different ways. Cognitive diversity is just as important to me as, as some of the-, you know, the bare facts if you like. And we continue to, to look to maintain that really now. I think we've reached a good place and as, as natural evolution of boards take place, we'll be looking to keep that going. But inclusion is also important too and we're working, not just at board level, but we've got groups of people in Royal London, we have a woman's network, a pride network, etc, that is looking to embrace all of our, our staff and our members and we're very aware of the different needs that people have. It might be disability which might be physical or mental and bearing in mind that a lot of the work we do involve people that are-, that are not well or might well be getting old age issues. This is a very important matter for, for Royal London. And we have another question I think.
Question: This year, you only made £41,000,000 of profit but paid out £146,000,000 in profit share payments. Surely it will drop next year and it isn't sustainable?
Kevin Parry: Very, very good question. The short answer is, is, is I really don't think so. We, we-, we look very carefully at profit share during the course of the year and how we determine what we decide to pay out and one of the differences between being a public company and being a mutual is that we look at the profit share in terms of, what is our accumulated capital? How, how strong are we financially? And we are very financially strong. And that allows us to ride out short term fluctuations in profit. We don't have to worry about quarterly profit returns as, as some companies do and we can take this longer term view. We-, we're certainly satisfied that the pandemic is a very rare occurrence, we hope. And certainly in terms of its impact on the economy, and so we don't see ourselves, at this stage, cutting it. It is possible that we might but our aim is to keep it at a good level, gradually increasing year on year and in the absence of unforeseen circumstances that's very much our aim. So, I, I hope that you can also look forward to, to a good profit share in, in the current year. I think, at the moment, we have no more questions coming in. I'll just give it another short time in case somebody has another one and is wrestling with the technology, but a red light is showing here which is a-, which means no questions. Right. I think-, I think then, we've done it. There being no further questions, in a few seconds I'll be closing the voting on our resolution. So, if you haven't voted, please vote now. As a reminder, the results of the voting will be published on our website later today. So, I'm going to now confirm that the voting has closed and I therefore also declare that the meeting is closed. On behalf of the board, thank you for joining us today and for your support, not just over the last twelve months, but I know, for many of you, for years going back in time. As I said earlier, it's our intention, if we are permitted, to hold next year's meeting in person and we look forward to seeing you then. For now, take care, continue to stay, stay safe. Thank you for attending today.
See the voting results and key to resolutions:
| Resolution | Description | Total Votes | For | Against | Abstain | Spoilt | For % |
| --- | --- | --- | --- | --- | --- | --- | --- |
| Resolution 1 | To receive the Company's Annual Report and Accounts with the related auditor's report for the year ended 31 December 2020. | 33,574 | 33,202 | 181 | 189 | 2 | 99.46% |
| Resolution 2 | To approve the annual report on remuneration for the year ended 31 December 2020. | 33,573 | 32,414 | 781 | 377 | 1 | 97.65% |
| Resolution 3 | To reappoint PricewaterhouseCoopers LLP as auditors of the Company until the conclusion of the next Annual General Meeting. | 33,573 | 32,348 | 904 | 320 | 1 | 97.28% |
| Resolution 4 | To authorise the Audit Committee to determine the remuneration of PricewaterhouseCoopers LLP. | 33,574 | 32,451 | 765 | 356 | 2 | 97.70% |
| Resolution 5 | To re-elect Kal Atwal as a director of the Company. | 33,575 | 32,618 | 668 | 287 | 2 | 97.99% |
| Resolution 6 | To re-elect Sally Bridgeland as a director of the Company. | 33,574 | 32,768 | 550 | 255 | 1 | 98.35% |
| Resolution 7 | To elect Daniel Cazeaux as a director of the Company. | 33,574 | 32,401 | 776 | 396 | 1 | 97.66% |
| Resolution 8 | To re-elect Ian Dilks OBE as a director of the Company. | 33,574 | 32,420 | 801 | 352 | 1 | 97.59% |
| Resolution 9 | To elect Shirley Garrood as a director of the Company. | 33,574 | 32,713 | 552 | 307 | 2 | 98.34% |
| Resolution 10 | To re-elect Tracey Graham as a director of the Company. | 33,574 | 32,675 | 606 | 291 | 2 | 98.18% |
| Resolution 11 | To re-elect Barry O'Dwyer as a director of the Company. | 33,575 | 32,528 | 694 | 352 | 1 | 97.91% |
| Resolution 12 | To re-elect Kevin Parry OBE as a director of the Company. | 33,574 | 32,434 | 788 | 350 | 2 | 97.63% |
| Resolution 13 | To elect Mark Rennison as a director of the Company. | 33,573 | 32,514 | 690 | 368 | 1 | 97.92% |
| Resolution 14 | To re-elect Tim Tookey as a director of the Company. | 33,574 | 32,536 | 657 | 379 | 2 | 98.02% |