Royal London is welcoming rugby players Claire Molloy and Shaunagh Brown as Royal London Ambassadors alongside the brand sponsorship of The British & Irish Lions.
Working with Claire and Shaunagh, Royal London aims to shine a light on women's rugby, raising its profile in the wider sporting community and working to break down barriers currently holding women and young girls back from participating in rugby.
To celebrate their new roles as Ambassadors, Claire and Shaunagh took part in a photo shoot with photographer and filmmaker, Rankin, on 4th August at his studio in London.
Claire and Shaunagh will partner with Royal London in a number of ways to promote women's rugby. On 16th August, they will join the Girls Rugby Club training camp in Horsham, West Sussex, to do some training drills, give advice and take part in a Q&A session.
Further details on the feasibility study exploring the establishment of a women's Lions team are expected in the coming weeks.
Susie Logan, Group Chief Marketing Officer, Royal London, said:
"We're delighted to be joining forces with Claire and Shaunagh to make a positive impact on the continued success of women's rugby. Claire and Shaunagh's dedication and devotion to their sport are inspirational to women already enjoying the game and young girls looking to start their rugby journey."
Claire Molloy said:
"This is a major step to making a viable Women's Lions Tour and represents the women's games never ending march onwards towards gender equality in rugby.
"Royal London is a mutually owned company, where it is accountable to its customers first and foremost with its investments. It's investment in the Lions feasibility study reflect on the huge value the company places on gender equality and in turn to its customers.
"As a Royal London ambassador, I hope to showcase how women's rugby can be a commercially viable sport, bursting with fantastic role models for companies like Royal London to invest in and to grow the game for everyone."
Shaunagh Brown commented:
"I was attracted to working with Royal London because of their ambitions for women and the future of women's sport to level the playing field. It shows Royal London are ahead of the curve and a force for change and progression within a whole female generation. This is a reminder to the wider public that women are here for the long haul and we are here to be taken seriously.
"Working with Royal London will help to amplify my voice as a force for good. As an ambassador, I hope to continue growing not only rugby, but women in all sport. To be able to harness Royal London's large following and encouraging people who are not usually interested in rugby or sport to take note. Sport can truly be life changing across all levels.
"I am incredibly proud to be a part of the beginning of what could be an incredibly powerful relationship between Royal London, women and sport."
Photographer and filmmaker, Rankin, said:
"This summer we've seen how incredible sport can be in transforming the lives of players & coaches and even spectators. We've all been inspired which is why it was such a pleasure to photograph and profile these successful rugby players. Highlighting their talent helps to inspire change within the sport and I'm super proud to have been a small part of that."
-ENDS-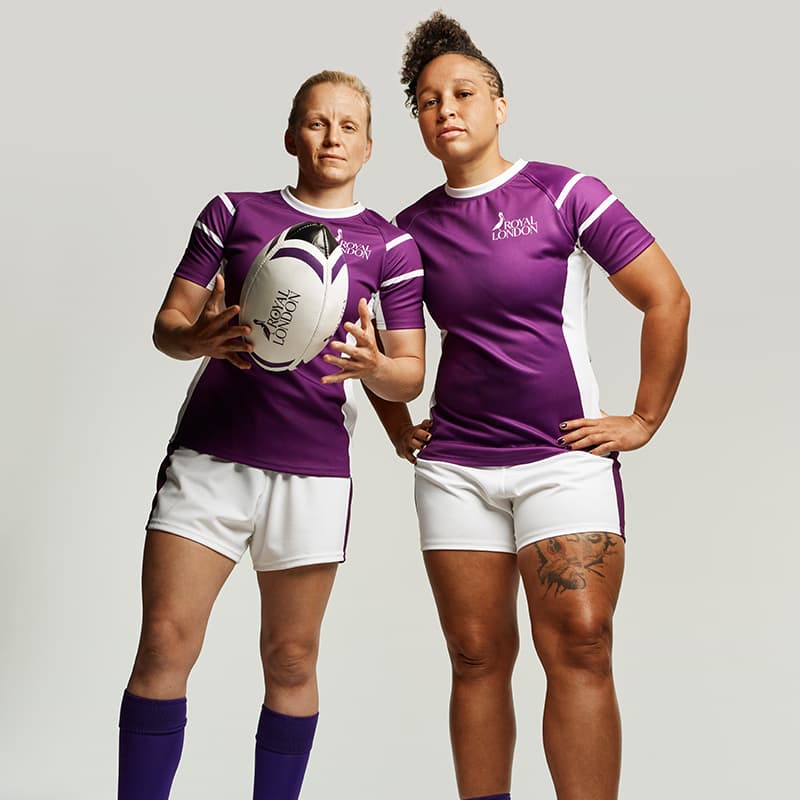 For further information please contact:
Royal London Press Office
Notes to Editors
Claire Molloy
Claire Molloy is an Ireland women's rugby union international, and is currently the most capped player in the squad. She represented Ireland in the 2010 and 2014 Women's World Cup squads and captained the team at the 2017 competition. Claire was also a member of the Ireland teams that won the 2013 and 2015 Women's Six Nations Championships.
She is also an Ireland women's rugby sevens international and captained the Ireland team at the 2013 Rugby World Cup Sevens.
Claire has also played ladies' Gaelic football professionally for Galway and featured in the 2005 All-Ireland Senior Ladies' Football Championship Final.
Claire is an A&E doctor and has recently returned to her medical career.
Shaunagh Brown
Shaunagh Brown is a current Harlequins Women's and England Senior Women's International having made her International debut in November 2017 against Canada.
After working as a gas engineer, commercial driver and firefighter, Shaunagh was awarded a full-time professional rugby contract at the age of 28, having already competed at the 2014 Commonwealth Games in Hammer Throw.
She played every game in the 2019, 2020 and 2021 Women's Six Nations and also won the Grand Slam in 2019, 2020 and 2021.
About Royal London
Royal London is the largest mutual life insurance, pensions and investment company in the UK, with assets under management of £153 billion, 8.8 million policies in force and 4,075 employees. Figures quoted are as at 30 June 2021.